Ampt is a recognized leader in PV power technology
Ampt is a privately held company that serves the global solar market to provide system level optimization that lowers the cost and increases the energy production of large-scale PV systems.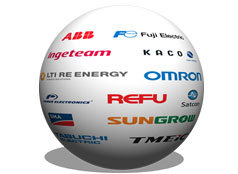 Project collaboration
Ampt optimizers are deployed on PV systems around the globe with many of the industry's leading inverter suppliers. We collaborate to ensure our mutual customers achieve the highest ROI with lower cost and higher performing PV systems.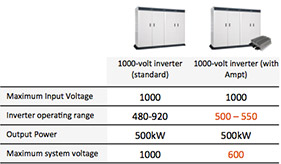 Inverter replacements
When replacing legacy inverters, Ampt optimizers allow the use of modern inverters. With Ampt, your 1000-volt inverters are set to operate at a constant or narrow voltage range that is less than 600V, but high enough to drive the rated output voltage and deliver full rated power. This provides a cost-effective solution for customers. This same adaptation can be done with 1500-volt inverters in 1000-volt systems.
Learn more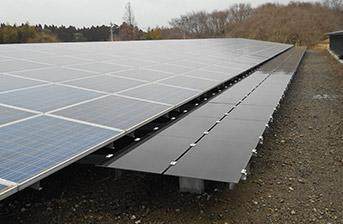 High DC ratios
Ampt's patented output voltage and current limits allow inverters to accept high DC ratios without exceeding the inverter's input current limit or infringing on other limitations. For many customers, this opens up significant value because they can achieve DC ratios of 2-to-1 or more.
Learn more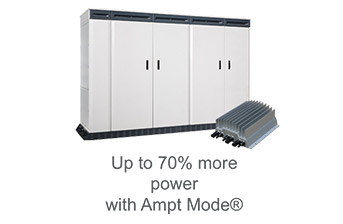 Inverters with Ampt Mode®
Ampt optimizers allow inverters to operate in a narrow input voltage range that is closer to the maximum system voltage. This allows the inverter to deliver a higher AC output voltage at the same current which raises the rated output power of the inverter. Operating in Ampt Mode® unlocks system value to your customers and helps distinguish your inverters from the competition.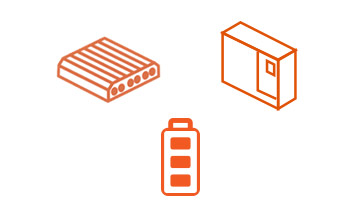 OEM Partnerships
Inverter manufacturers are including Ampt products in their solutions to deliver greater value to their customers. From low-cost DC-coupled storage to regulatory-compliant residential solutions, inverter companies are gaining the advantage by distinguishing their offerings with Ampt.